The banking and financial landscape has been advancing dramatically since The Industry 4.0, especially when dealing with the effects of the Covid-19 pandemic as banks in droves are striving to close gaps in digitization of internal processes and customer offerings for the competitiveness in the large technology.
The banking sector is proactively heading the road of building on information and communication technology infrastructure for digital marketing to improve customer experience, promoting a great deal of products and services, such as QR code payment, online savings, online loan application, eYKC process, lucky account number, accounts linked to phone number, etc. Digitalization has made it easier for banks to access and expand suitable products and services at reasonable prices to unbanked locals.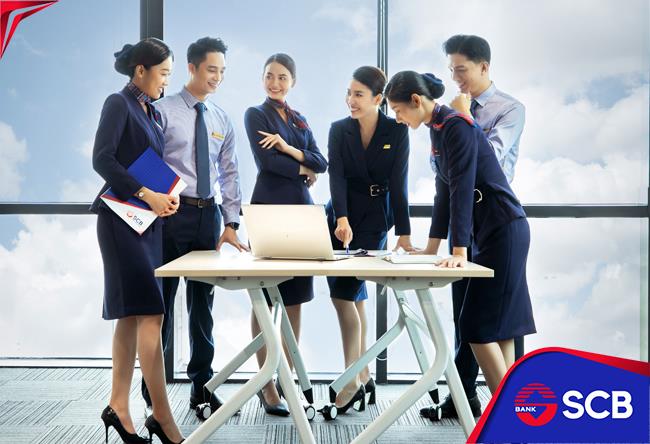 Saigon Commercial Bank (SCB) soon realized the pivotal role of technology in development strategy, aiming at optimizing customer experience and operational efficiency, improving governance capacity and workforce productivity.
In the digital banking race with equitable access to latest technologies, only ones that understand their customers and roll out relevant hi-tech services will get ahead. Aware of this, SCB has invested heavily in the IT system in which the data management is the priority in order to access, process and exploit data in the safest and most effective way, helping the bank tailor its services to customers' needs. Right from the early days, SCB has chosen Oracle's technologies for the bank's comprehensive data management system since the company is the world's leading provider in this field.
Currently, the entire system of SCB's important business applications is centrally managed on the Oracle Exadata Database Machine platforms, integrated with Oracle Zero Data Loss Recovery Appliance (ZDLRA) to protect against and recover data loss with private cloud backups.
This application system enables SCB to improve customer experience by minimizing the end-of-day processing, keeping trading system utterly equable, not least regarding to unexpectedly skyrocketed volume of transactions. The system encompasses digital banking applications, online transaction systems, Mobile Banking, etc. with boosted uptime for just a few minutes to get important reports, making the whole administration satisfactorily faster.
Thanks to the well performance of Exadata platforms and its most affordable price in the industry, together with the integration of ZDLRA, SCB has witnessed improvements in technology, data security, user experience as well as efficiency in investment, TCO, ROI compared to other servers. Moreover, the bank now can save more costs of labor, operation, and management.
Exadata has brought to SCB a system with strong stability and high security with consistent backup appliance on-premises or in the cloud center, running the bank's transactional workloads more smoothly.
With the goal of accelerating digital transformation, finding competitive advantages to expand market share and provide customers with optimal payment facilities, SCB also announced a tie-up with BPC, who will be the bank's solution partner in switching and Card Management system.
The SmartVista system is an outstanding user experience design with the flexibility, configuring products to suit both the bank and its customers' specific needs, without the need for coding or additional investment.
This system is expected to improve SCB's payment methods including processing card transactions at ATMs, POS, and e-commerce sites. It as well shortens the issuance process for card registrations. Combining many features from Internet Banking and Mobile Banking, the system allows customers to proactively perform card management activities and enjoy digital banking experiences at SCB.
In addition to convenient services, SCB will introduce services with the availability of advanced self-service equipment, for instance, the Video Teller Machines that help customers get their registered cards more quickly and perform card transactions with few simple steps. SCB is projected to expand business lines that accept card payments with the cooperation of Visa and Mastercard on SmartVista platform.
Commenting on the partnership with BPC, Mr. Nguyen Ngoc Nha Nam, Deputy CEO of Operation and IT Division, shared that: "SCB invests strongly in new generation technology to spearhead digital adoption among our retail and business clients. With BPC, we are having a partner with deep understanding of the market, a comprehensive and scalable platform that will help us accelerate our digital transformation to deliver superior customer experience."
Commenting from Oracle, Phong Pham, managing director, Oracle Vietnam, said: "The banking industry is transforming at a rapid pace, in the face of changing regulations, heightened focus on security, and increasing customer demands. To help meet these needs, Exadata is a platform that many banks are turning to, to help them boost reliability, scalability, and performance, as well as process an ever-increasing amount of data. All of these help banks like SCB increase the level of business value delivered to customers and maintain stringent levels of control and governance."