With the desire to provide a wide range of products and services, to meet customers' needs in savings and participation in insurance, from 25/02/ 2019, SCB implemented the product "Efficient savings and insurance" with many attractive features.
Accordingly, the product applies to personal customers opening new deposit account "Efficient savings and insurance" in VND at SCB counters, and issuing a new Manulife insurance policy. The minimum deposit limit is VND50 million and a maximum of VND5 billion/deposit account. With the term of 06, 09 or 12 months, the form of advance interest payment, SCB offers customers a competitive interest rate compared to conventional savings products. In particular, prepaid interest rates will be transferred by SCB to customers' deposit accounts in VND to pay the first actual premium paid periodically. Thus, with the product "Efficient savings and insurance", customers not only receive attractive interest rates but also have a comprehensive protection solution in the future for themselves and their families.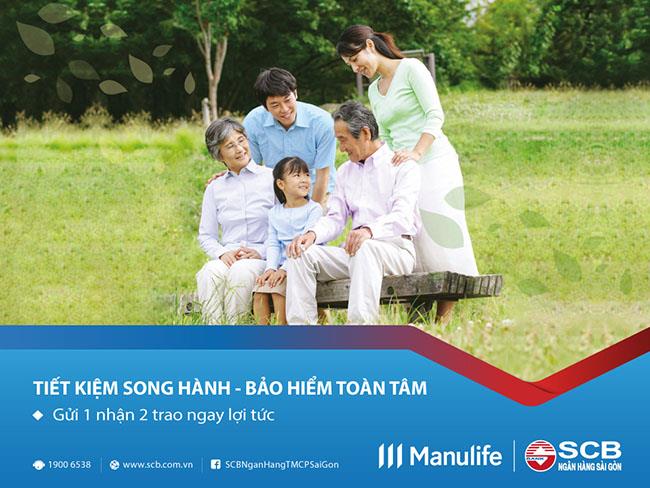 Currently, SCB is cooperating exclusively with Manulife Vietnam in insurance distribution through its system. By constantly linking and providing new products and services, SCB and Manulife offer customers a variety of products, increasing utility, ensuring optimal benefits for customers. After 3 years of cooperation and effort, SCB and Manulife's Bancassurance activities have achieved many successes with a growing number of customers, 2018 premium sales are estimated to grow about 180% compared to 2017, the number of policies issued in the year was about 14,000.
"Efficient savings and insurance" not only optimizes yields for customer's idle money with competitive interest rates, but also helps customers feel more secure and proactive in participating in insurance packages as an investment and risk reserve for the future. In 2019, SCB aims to strengthen its associated product packages, bringing many benefits to customers in one product. "- a SCB representative said.