On 20/08/2018, Ho Chi Minh City, within the frame of promotional investment event held by the Vietnam Chamber of Commerce and Industry (VCCI) in coordination with Hong Kong Trade Development Council (HKTDC), Sai Gon J.S. Commercial Bank (SCB) and 3 Hong Kong banks--including Hang Seng Bank Limited, Chong Hing Bank Limited and The Bank of East Asia Limited--signed the cooperation of syndicated credit financing to Union Square Company Limited (business operation in real estate field). Accordingly, SCB and these banks commit to support financial investment and ensure a stable finance source for Union Square to foster its business operation.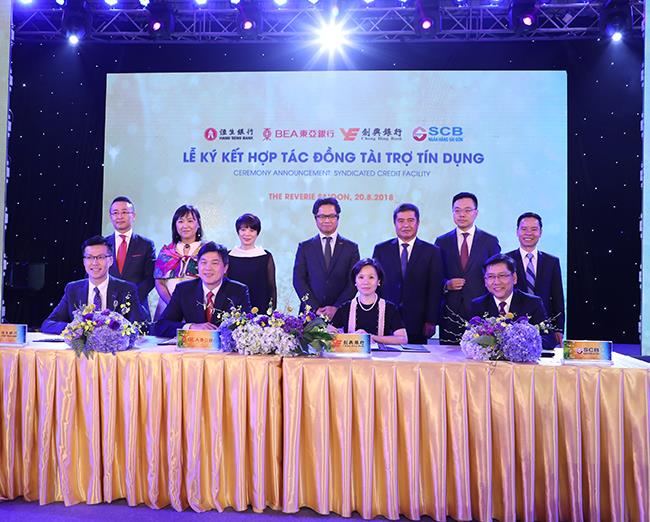 The signing of the Cooperation of syndicated credit financing to Union Square opens new opportunities for comprehensive cooperation, development and sharing experience among SCB and three big banks of Hong Kong in diversifying financial services, exploiting all potentials, creating business efficiency, and enhancing their status on the financial market. This event is also an important milestone to meet capital needs for business and support the economic development of the country.
----------------------------------------------------------------
A look at SCB and 3 Hong Kong banks
Hang Seng Bank Limited
Hang Seng Bank Limited is one of four Asian banks listed in the top strongest banks in the world for five consecutive years. In 2014 and 2015, this Hong Kong-based bank maintained its leading position, surpassing other European and American banks.
Established in 1933, Hang Seng is one of the biggest listed companies in Hong Kong. The market capitalization as of 30/06/18 is 375.1 billion HKD. The main business scopes are retail banking and asset management, commercial bank and the global market. It also provides a variety of Chinese Yuan services. In Hong Kong, its network includes 270 transaction units.
In China, the bank's branches are located on the Pearl River Delta, Yangtze River Delta, Bot Hai region, Macau and Singapore, and Taipei (Taiwan). Hang Seng Bank is the main member of the HSBC group, holding 62.14% equity and is one of the largest financial service organizations in the world.
Chong Hing Bank Limited
Chong Hing Bank Limited (formerly called 'Liu Chong Hing Bank Limited') was established in 1948, with 39 branches in Hong Kong. Together with its subsidiaries (Chong Hing Securities Limited and Chong Hing Insurance Company Limited), the bank provides a variety of banking services to personal and corporate customers, including Hong Kong dollars and foreign deposits, credit, asset management, investment, securities, insurance and other commercial banking products. Its branches are located in Guangzhou, Shenzhen, Shantou and Macau, other branches in Guangzhou Tianhe, Foshan, Nansha and Hengqin, and representative offices in Shanghai and San Francisco.
The Bank of East Asia Limited
Established in Hong Kong in 1918, The Bank of East Asia (BEA) specializes in providing corporate and personal banking services, asset management and investment for customers in Hong Kong, China and other major markets around the world.
Being listed on the Hong Kong Stock Exchange, BEA is a group of leading financial services in Hong Kong, meeting the demands of customers in China and the world, with consolidated total assets of 808.9 billion HKD (103.5 billion USD) as of 31/12/2017. BEA also owns one of the largest networks in Hong Kong with 70 branches, 54 SupremeGold centers, and 11 financial centers. In China, BEA began to operate in 1920. On present day, BEA Group operates widely in China with a network of branches in 44 cities.
In the past years, BEA created its status as a pioneering bank in providing creative banking services, adding values to customers. In international scope, it established its presence in Southeast Asia, UK, and America. In the world, including Hong Kong and Chinese self-administered divisions, BEA has around 200 transaction units with 10,000 employees.
Sai Gon J.S. Commercial Bank - SCB
Established in 1992, after 26 years of operation, SCB is now among the top 5 biggest private commercial banks in Vietnam with total assets of 476,000 billion VND (more than 20 billion USD), charter capital of 14,295 billion VND (approximately 630 million USD) as of the end of second quarter, 2018. Its network covers 28 provinces/cities in major economic zones with nearly 6,000 employees. With strong financial potential, rapid growth rate, modern technology background, diversified product portfolio and gradually increasing service quality, SCB is projected to become one of the most trusted and versatile retail and modern banks in Vietnam, providing all-in-one financial solutions to customers.
In 2018, SCB received many awards from prestigious organizations such as: "Top 500 biggest enterprises in Vietnam 2017" by Vietnam Report, "Best Bank for Information Technology Vietnam 2018" by Global Banking & Finance Review Magazine, "Best Commercial Bank 2018 Vietnam" by World Finance Magazine, "Best Customer Service Bank Vietnam 2018" by Global Business Outlook Magazine, "Best Deposit Certificate of the Year Vietnam 2018" by Global Banking & Finance Review Magazine, etc. These are vivid evidences of proper orientation as well as an efficient business operation of SCB during the past years.