As a gratitude to customers, from 15/07/2019 to 15/10/2019, Sai Gon J.S. Commercial Bank (SCB) launches the Program "Instant transactions and big prizes with Western Union". Accordingly, all customers of Western Union (WU) at SCB have the chance to receive attractive prizes.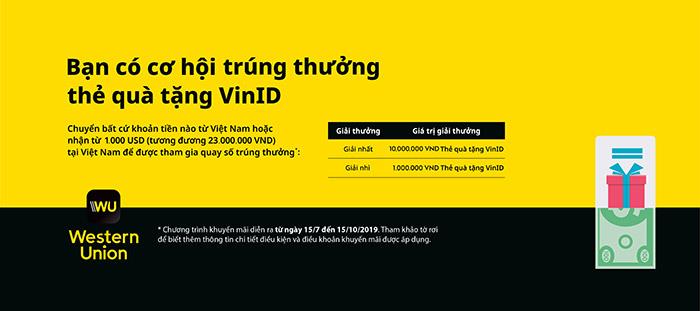 Customers remitting money of any amount or receiving money valued from USD1,000 (or equivalent VND23 million) up via WU are entitled to an electric lucky drawing. Prizes for the drawing include 02 First Prizes of 01 VinID Gift Card worth VND 10 million each and 20 Second Prizes of 01 VinID Gift Card worth VND 1 million each. The Program will be implemented at all SCB's (sub)branches from 15/07/2019 to 15/10/2019, or until all prizes has been delivered.
Via SCB - a licensed agent of Western Union, customers can access to a safe, convenient global remittance channel with benefits of short procedure, free charge for remitter, widespread network, competitive service fee, etc.
Characterized as being attentive, quick, safe and secured, remittance via banking channel is always one of the popular choices of customers. According to the State Commission of Overseas Vietnamese People, as of the end of 2018, the volume of money inflow to Vietnam is USD18.9 billion, accounting for 6.6% of GDP and this is a stimulus for the banks to launch preferential programs to attract customers and reach their business targets.