In the occasion of Oktoberfest Festival in October 2018 and Vietnam Entrepreneurs Day, SCB would like to express appreciation to customers via the program named "Gifts To Entrepreneurs – Fancy Festival 2018 with SCB". This program will be officially launched from 15/09 to 13/10/2018 with more than 300 Oktoberfest Festival tickets for personal and corporate customers in Ho Chi Minh city and more than 350 other gift items honoring customers using SCB's products and services.
Accordingly, SCB offers 01 couple of tickets worth VND3 million to 100 premier corporate customers each at branches in Ho Chi Minh city; customers of the highest C-Master Debit expenditures in the first 08 months of 2018 and 50 personal customers of the highest international payment volume. Moreover, SCB will offer vouchers to corporate customers in SCB qualified for the program.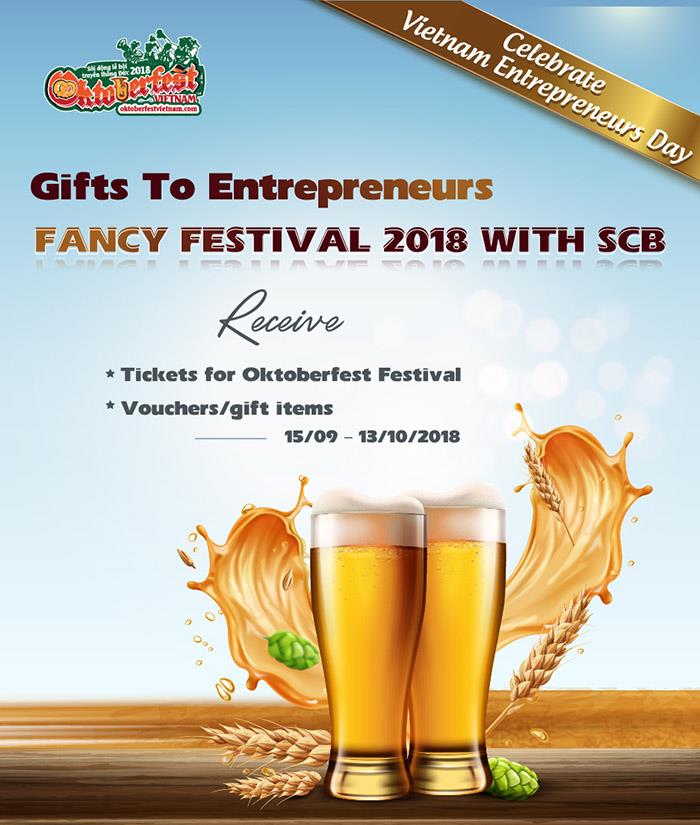 In addition, for personal customers of SCB international cards in Ho Chi Minh city, SCB will offer 02 Oktoberfest tickets for each eligible customer, i.e., 600 Oktoberfest tickets for 300 principal cardholders of the highest expenditures from 01/01/2018 to 31/08/2018, 400 Oktoberfest tickets for 200 principal cardholders of the expenditure reaching VND20 million the fastest from 20/08 to 09/09/2018.
Oktoberfest Festival 2018 will take place at Windsor Plaza hotel (Ho Chi Minh city) from 03/10 to 13/10/2018, expected to bring unforgettable moments to participants.
The city's most exciting annual event returns for its 14th year at Windsor Plaza hotel. Originating from Munich, Germany, Oktoberfest Vietnam is a celebration of authentic German fare, beer, and fun. This annual event recreates the authentic atmosphere found in the massive beer halls of the original Oktoberfest, complete with savory German cuisine including sausages, schnitzel, pretzels, and sauerbraten.
Participants will enjoy these excellent foods during the Festival and also get chances to win the prizes every night. Each ticket is also a chance for a special prize of SCB international debit card worth VND50 million and other 40 lucky prizes of VND2 million/each in 08 nights of the Festival.